Gothic vampire jewelry is so hot and especially for Halloween as well as an everyday dark style. If you love fiction, movies or TV Shows such as Angel, Blade, Buffy, Twilight and also The Vampire Diaries then getting this type of dark yet chic style is a real must.
Wear these dark and alluring Gothic pieces of jewelry as costume accessories along with a really eye-catching Halloween outfit. It will help to ensure that you really stand out this year for all the right reasons.
There's a lot of intricately styled vampire costume jewelry accessories on this page and mostly necklaces which make a real statement. Just scroll down and take a look. Quick, before the fangs sink in.
Note: This post contains affiliate links for which I may be compensated.
Image Credit: Original image shared by RondellMelling on Pixabay with a CC License
Vampires have a real sense of style. They are really entirely different to other undead creatures like Zombies which always look like they're dirty and dressed in rags.
True vamps love to look smart, sexy and super sophisticated. If you really want to wear Gothic vampire jewelry which reflects your love of all things dark and edgy, you need some super stylish bling which is featured here on this page.
Gothic Vampire Jewelry: Coffins, Caskets and Tombstones
Get this Coffin Locket Necklace which Opens Up from Amazon.com
UK Readers get a Coffin Necklace from Amazon.co.uk
If these creepy Vampire creatures actually existed, I don't think they would need to sleep in coffins. However, Vampires, and especially Dracula, have often been portrayed in movies and fiction as sleeping in these types of caskets.
This jewelry is often based around things which involve the dead as well as the living undead. Coffins, caskets and tombstones make for great Gothic wearable pieces anyway and are very stylish too.
I like this pendant vampire coffin necklace above which really does open up. Many of this type are held closed with the use of a little magnet inside.
Not all of these types of coffin lockets do open up since some are merely decorative only, so be aware of that one. You'll find some more great ideas below that are perfect for glamorous Halloween costume accessories.
Vampire Jewelry: Blood, Bottle, Vial and Phial Designs
Get this Gothic Vial Pendant Necklace from Amazon.com
UK Readers get a Vial Necklace from Amazon.co.uk
This vial above is made from pewter with a glass vial and a working cork stopper so you can add your choice of element inside.
You could choose to add red colored sand if you did not want to add in a liquid. Be aware that some bottle necklaces and charms are merely decorative and not functional. In other words, they don't all open up so you can put things inside.
​This is my personal favorite style of Vampire wearable items: the Gothic vial necklace. I love the idea of having a bottle charm on a necklace that actually opens so that you can store something in there.
You can store dyed red water in it if you want it to look like fake blood. Personally I'd rather put some pretty scent or perfume in but that's just me.
You can use some red food dye in with water just to get the look of blood in the vial without actually obtaining it. That sounds like a win-win situation to me but I'm not an actual creature of the night.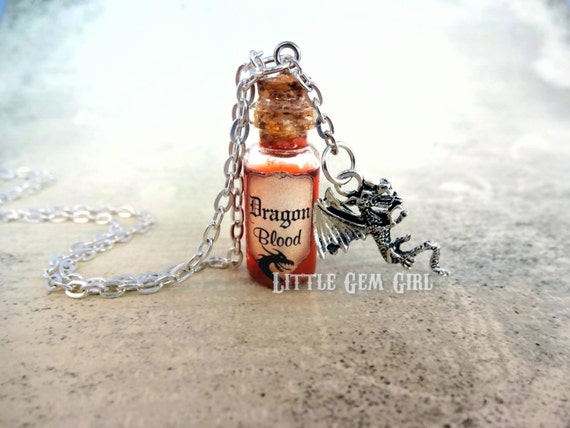 Buy this Dragon's Blood Vial Necklace from LittleGemGirl on Etsy
These are fascinating necklaces and other trinkets which you might expect to get many comments on. I think if you're looking for show-stopper to wear along with a cool costume for cosplay or other occasions then this is it.
Dark and Delicious Gothic Vampire Jewelry Designs: Choker Necklaces and More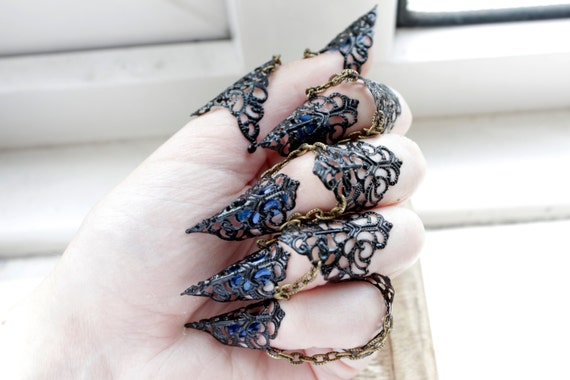 Buy this Nail Ring Set from ArmaMedusa on Etsy
This style of jewelry is something that any true Vamp would be proud to wear after dark: Sharp Teeth or Fangs, Coffins, Tombstones, Bats and Bottles or Vials of Fake Blood.
This selection is anything that appeals and makes for a truly Gothic and stunning collection of vamp necklaces, rings, bracelets, earrings and more. All these items would make amazing and devilishly stylish accessories for you to wear.
There are actually bats which do feed just on blood and these are known as Vampire Bats. Like the popular fictional version, these bats have front teeth which are designed for cutting flesh and drawing blood.
Two of the three species of these bats feed on birds and the last blood-only feeding species, which is the Common Vampire Bat, prefers the blood of mammals and that includes human blood.
Buy these Vampire Bat Earrings from Amazon.com
UK Readers get some Vampire Bat Earrings from Amazon.co.uk
These bats share much in common with creatures of the night. In some fiction and movies, they can actually transform into bats so these flying mammals have become somewhat symbolic with the humanoid Vampire counterpart.
In any case, Gothic vampire bat jewelry make fun wearable items for Halloween. The cute looking pair of dangle earrings with these creatures hanging upside down would make a great accessory to wear for October 31st.
Did you know that you can actually get cosmetic dentistry to get real fanged teeth? Perhaps you don't want to go that far, I mean people aren't exactly going to want to get too friendly with you when they see them. So fanged jewelry is a great, and rather more sensible, compromise for the average female.
Vampire Fangs Necklace Jewelry: Bite Me!
Get this Vampire Fangs Necklace in Hot Pink from Amazon.com
UK Readers get a Vampire Fangs Necklace from Amazon.co.uk
​Bite Me Fangs Necklace: this style of Vampire jewelry wouldn't be complete without some truly terrifying teeth or fangs. With humans it's normally all about the eyes but with these particular creatures of the night it's very much about the fangs.
According to Wikipedia, fangs are a relatively modern invention which came about in fiction during the 19th century. I really like the look of this necklace which is in lead-free alloy with a hot pink lips detail. There are also other designs which are cool including bite me necklaces too.
Related Content You Should Also Love:
Page Last Updated:
Articles are accurate and true to the best of the author's knowledge. Content is for informational or entertainment purposes only and does not substitute for personal counsel or professional advice in business, financial, legal, or technical matters.