A really fun way to get into and enjoy the thrilling anticipation of the upcoming spooky season is with a themed Halloween advent calendar also known as a countdown calendar.
All Hallows Eve is one occasion that so many kids and adults simply cannot wait to arrive. Why not make the whole of October much more exciting with the addition of a countdown to October 31st and some rather haunting images to reveal all month long.
Children especially really delight in their Trick or Treat time and one of these special and Halloween countdown calendars can make for a really nice and inexpensive little non-candy treat.
Note: This post contains affiliate links for which I may be compensated.
Halloween Advent Calendars: A Haunted House Countdown to Trick or Treating Time
🎃 In a Hurry? Get a Halloween Countdown Calendar HERE from Amazon.com and also at Amazon.co.uk
A Halloween Advent calendar can look great as part of the home decor and it is also ideal as a small gift that parents and grandparents can buy.
It is a great way to encourage younger children with practicing their numbers and counting. Older kids meanwhile can do some simple math to work out exactly how many days are left.
Get this Haunted House Countdown Calendar at Amazon.com
UK Readers get a Halloween Countdown Calendar from Amazon.co.uk
This is a lively looking and fun themed countdown calendar decorated with a fantastic and engaging Halloween scene. All the motifs you can think of relating to this spooky season must be included here in this artwork.
The haunted house is surrounded with pumpkins and jack 'o' lanterns with different expressions, some ghoulish and some funny.
There's a ghost with his chains, a big brown bear, scary eyes peeking out from a dark tree nook, an Egyptian mummy, Frankenstein's monster, a witch on a broom and bats flying in the sky. What else can you see? This could make a great game for younger kids who can enjoy pointing out all the different Halloween characters again and again!
This haunted house design comes with jokes, the kind of jokes which younger children will probably find funny and they will repeat them to you often! We get this all the time with our little one. There is lots to see and do using this fun way to countdown to Trick or Treating time.
Paper Based and Wooden Halloween Countdown Blocks
These wooden countdown blocks are not only practical for watching the days count down to your favorite time of year but they will also look great as part of your home decor too. Read the listing to see when the blocks work from as some count down the days for more than just a month before.
With wooden and even paper blocks, you can pop them out on a work desk or place them in the heart of your home somewhere like the kitchen where you will see them often. I think they also will make a great gift for fans of this occasion.
Halloween Countdown Printable Calendar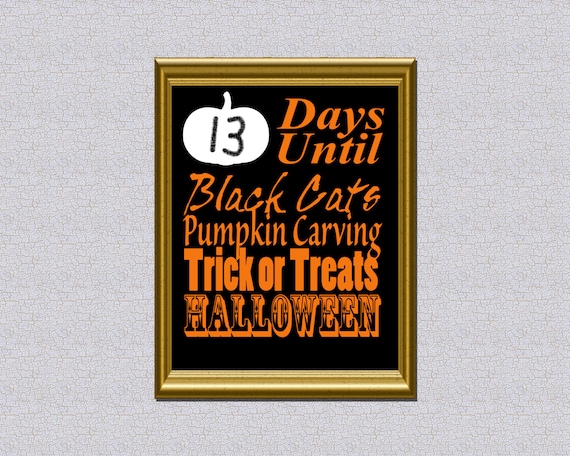 Buy this Printable Halloween Advent Calendar from AbilityPoweredDesign on Etsy
I love this idea of a countdown calendar that you can print off yourself. This design is available as a standard printable for you to download and print.
It has a very striking black and white design with funky colored text in pumpkin orange. You can print it out each year to re-use again and again. If you're careful, you'll be able to use it all next year too or just print it out again as you need to.
Headless Pumpkin Design: Not for younger children is this design which features a headless pumpkin riding a horse and holding his 'head' in one hand. It's just a little bit creepy for the younger ones and better for older kids or even adults. You open the windows to view a themed image and verse from The Headless Pumpkin poem.
Wooden Halloween Countdown Calendars
Buy this MDF Halloween Countdown Design from Amazon.com
For those of us who get oh so terribly excited about this really fun Fall season, here's a brilliantly effective looking hanging wall decoration. This design is in the form of a wooden style MDF advent Halloween calendar which lets you display a count of the number of days left to go.
I love the design on this wooden style MDF plaque which is in elegant and classical white and black (or black and orange) with a very suitable Gothic looking design. It could match in well with most of your decor for the spook time season. So this becomes a really practical piece of decor or wall hanging for October.
At this time of year, my daughter is always asking how many more days there are until October 31st. I know that she would really love to have one of these so that she can check herself.
Jim Shore Halloween Count Down Figurine
Buy this Collectible Jim Shore Halloween Count Down Figurine at Amazon.com
UK Readers get a Countdown Calendar Figurine from Amazon.co.uk
​For a more lasting and permanent piece of Halloween decor or for a brilliant gift idea, how about this wonderful looking Jim Shore figurine. This features a witch and her raven familiar over a tombstone scene. You can start at the beginning of October with 31 days to go and then swap the numbers until you get to the end of the month. It's a really great looking design.
Halloween Trick or Treat Calendar: This is a fun scene showing some kids dressed up in costumes while they go Trick or Treating. But have the children chanced upon the wrong home? This one looks haunted with a ghoulish ghost, vampire and a witch all staring out. I love the fact that even the little dog is dressed in costume too.
Have a fun Halloween party like they are in this colorful artwork. There's food, dancing, fun and games, all the things that will remind the children opening the windows of what they have to look forward to on October 31st!
Haunted House Halloween Advent Calendar
Buy this Halloween Countdown Calendar from ArdentlyCrafted on Etsy
Also look for the storytime version. Some kids just love the excitement of feeling a little bit scared and this Halloween advent calendar gets that theme in one with its storytime design. Parents are dressed in costume as a witch and as Dracula and are reading spooky stories to the child playing on the floor. This is a very fun scene.
I also love the haunted house and flying witch design. This is a bewitching looking scene with a witch flying past a haunted house on her broomstick. Her black cat or familiar is below with its back all arched and ready to hiss at anyone who dares to venture near and there is a crow watching with its beady eyes. Look out for the Witches' Brew Halloween Count Down too. Enjoy counting down the days.
Related Content You Should Also Love:
Page Last Updated:
Articles are accurate and true to the best of the author's knowledge. Content is for informational or entertainment purposes only and does not substitute for personal counsel or professional advice in business, financial, legal, or technical matters.