Not everyone wants to decorate their home and outdoor space for October 31st with things that are not family friendly. Having some kid friendly, cute, fun, colorful and non scary Halloween decorations and items in your rooms and yard can be much more cheerful for everyone.
Colorful and cute Halloween decorations will be much more appropriate and especially if you have young members that are coming to visit either in your own family or with guests that are coming to visit.
Certainly, decor that is non-scary and child-friendly for Halloween are better for kids parties and events around this occasion too. But finding these types of accessories and items to use isn't all that easy. I've picked out some of my favorites to help you keep things fun for everyone.
Note: This post contains affiliate links for which I may be compensated.
Non Scary Halloween Decorations for all the Family to Enjoy
To ensure that your home and yard decor is fun and friendly for families and kids, add in lots of cute and colorful items in some brighter shades for the season.
Big groups of colorful tied balloons that make up balloon bouquets are a quick and inexpensive way to add color inside the home and are ideal for kid's parties.
Get this Cat and Pumpkin Door Decoration from Amazon.com
UK Readers get a Kitty Door Decoration from Amazon.co.uk
This is a smiling and friendly faced Jack-O-Lantern pumpkin door decoration. The addition of a very cute kitten cat with a witch hat is not scary at all and adds a bit of cheer into your Halloween decor. I love that this can set the tone right at the front door.
Cute and Colorful Supplies Make Family Friendly Non Scary Halloween Decorations
Part of the key to keeping your home from looking too frightful is in choosing lots of bright and fun colors rather than opting for those darker ones. Look out for bright pumpkin oranges, royal purples, monster greens, whites and only just a little black.
Keep it looking light and fresh with smiling character faces and items that really don't look too realistic at all. For children's parties add in lots of brightly colored balloons and fun inflatables that kids can enjoy and smile at.
You can buy Halloween balloons in bright colors like oranges, purples, greens, yellows. Add in just a few black or lots of white ones and hang them around all the rooms that will be used for your decorations.
Hang the balloons up individually or in clusters. Paper banners, garlands and chains can be made or bought in the colors of your choice and are a fast way to set a scene. Keeping decorations light and bright is the key.
Fun Swirl Decorations in Bright Colors to Hang from the Ceiling
UK Readers get some Halloween Swirl Decorations from Amazon.co.uk
These look like vibrant and fun hanging Halloween decorations. There are friendly looking ghosts and smiling pumpkins. Other designs in this range include smiling Jack O Lanterns, bats, spiders and skulls.
Swirl hanging decorations can quickly fill an area of a ceiling and look fun and cute enough that children are able to enjoy them for kids Halloween parties too. You can hang these designs from the ceiling using tacks.
When choosing typical creatures and characters such as bats, spiders, ghosts and skulls, make sure that these look cartoon-like rather than realistic for your non-scary decor theme.
For more of a fun, child-friendly look use lots of bright seasonal shades. Make sure to add in plenty of white instead of the usual black in order to keep the whole look nice and light.
Non-Scary Halloween Decorations: Window and Wall Decor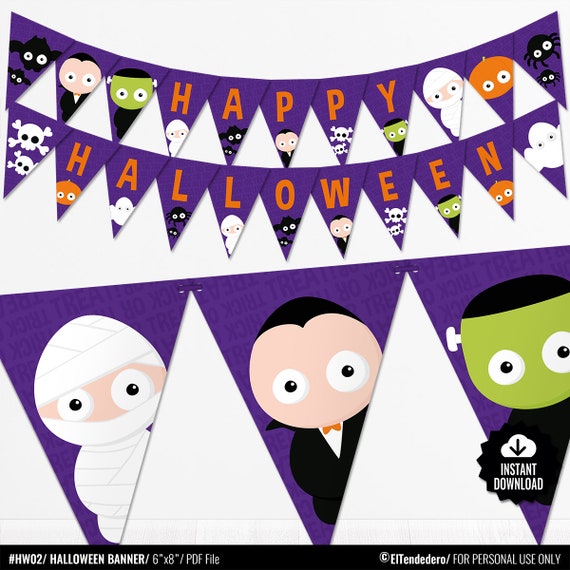 Buy this Printable Happy Halloween Banner from Eltendedero on Etsy
Focal walls and windows can quickly be transformed using themed window clings and wall decal stickers for a start. Large posters can quickly fill up a bare looking area and can even be laminated for you if you want it to last for next October 31st.
There's nothing to stop you from printing out extra large letters using your computer or even a craft cutter to spell out words and phrases like 'Boo' or 'Happy Halloween' and then you can stick them across the walls or make garlands from those that you hang up.
Happy Halloween Fun Wall Decal Stickers
Buy These Happy Halloween Wall Decal Stickers from Amazon.com
UK Readers get some Halloween Decals from Amazon.co.uk
This is a fun looking set of 30 peel and stick wall decal stickers. There are lots of cute designs and motifs including Happy Halloween and Hocus Pocus. Lots of smiling pumpkins, stars, skulls and more.
Just peel and stick these designs onto any clean and smooth spare wall space. I love the look of these fun Hocus Pocus cartoon style designs. You should be able to peel and stick these onto any smooth surface such as a wall or even some furniture. Decal stickers can add in lots of color and festivity and they simply peel right off when you're done.
Look for a cute Happy Halloween garland to look great hung across a wall. If you have plenty of time then you could actually create something similar yourself. You can either print out some letter outlines on a computer and cut them out yourself or use a craft cutter to do all the work for you.
Join in the spooky fun by looking for some cute Disney cartoon Halloween window clings. These are fun clings that children can really enjoy with their favorite characters of Minnie and Mickey Mouse, Pluto and Donald Duck who are all going Trick or Treating.
Outdoor Inflatable Light Up Ghost Decoration
UK Readers get a Inflatable Ghost from Amazon.co.uk
The idea with yard decor, as with other areas, is to buy items that really don't look realistic at all. Don't look for any realistic looking spiders, skulls, bats and other motifs because they are too much for young kids.
Make sure that you get things that have a real cartoon look and feel to them. Look for smiling Jack O Lanterns and happy witches. There are lots of non-scary inflatables that you could choose from as outdoor Halloween decorations. Or how about a large 7 foot light up inflatable Halloween train complete with a skeleton, ghost and smiling pumpkins too.
Related Content You Should Also Love:
Page Last Updated:
Articles are accurate and true to the best of the author's knowledge. Content is for informational or entertainment purposes only and does not substitute for personal counsel or professional advice in business, financial, legal, or technical matters.