There are loads of fun and novel Halloween kitchen accessories and items with which you can decorate your room for this occasion. This room is often the heart of any modern home and deserves to have its own makeover for the Fall season.
I love the idea of having a themed space like a witch's spell brewing area or a zombie zone in the kitchen. An alternative is to mix up your styles with some creepy and fun designs and props.
With so many great looking items for every room of your home, it can be hard to pick out and choose exactly which ones will make good accessories and small items for your kitchen area. I spend a long time window shopping which means I have time to sit and pick out great looking items that other people can enjoy.
Note: This post contains affiliate links for which I may be compensated.
Halloween Kitchen Accessories: Small Room Decor Props and Cool Items to Die For
Image Credit: Original image shared by Flachovatereza on Pixabay with a CC License
Here I've chosen a number of cool items that would help to give your space a fun or spooky theme for this occasion. If you only have a small amount of money to spend, you could invest that in one key piece that will make for a really great looking centerpiece.
Get a fantastic looking wow item for a kitchen table or for a display area that your guests will see as soon as they enter the room. You want something that will stand out and make a good impact on all who dare to walk in.
Salt and Pepper Shakers for Halloween Make Novelty Table Decorations and Great Little Keepsake Gifts
Get this Halloween Owl Salt and Pepper Shaker Set from Amazon.com
UK Readers get a Halloween Salt and Pepper Sets from Amazon.co.uk
This is a cute looking little shaker set which should make great Halloween kitchen accessories to put out on display in the room. Featuring a pair of ceramic Halloween owl salt and pepper shakers.
I think they look just the part and they are fun and whimsical in design rather than being creepy. Another design you might like is of a witch cauldron and an RIP tombstone design in orange and black colors.
See More Halloween Salt and Pepper Shaker Sets Here
These cute little ceramic pieces should make a wonderful looking addition to the kitchen table or as a little quirky display on a shelf. I love that they come in traditional Halloween color choices with the orange, green, purple and black. These ones are not too scary and are more family friendly to be enjoyed by all who dare to come visit!
Halloween Serving Bowl with Wonderful Witch Design by Fitz and Floyd
Buy this Fitz and Floyd Boo Witch Bowl from Amazon.com
UK Readers get Fitz and Floyd Halloween Items from Amazon.co.uk
Matching up pretty nicely with the salt and pepper shaker set is this wonderfully decorative looking little witch themed bowl which would look great placed out on the kitchen table or on display on a shelving unit.
You could use this bowl to hold some candy or some potpourri or just display it on its own. The Halloween and Fall inspired colors are great to match in with other items and accessories for your kitchen and room.
Going with the more family friendly and fun look, there is a black Witch's cat candy bowl, not pictured, that really fits the bill. I like how this could be a great centerpiece that guests will flock to in order to get some yummy candy. It is a lovely shiny ceramic piece that would match up perfectly with some of the other items on this page.
Halloween Drinking Glasses to Toast in the Occasion and For Novel and Fun Party Glassware
See this Set of 4 Skull Shot Glasses at Amazon.com
UK Readers get Skull Shot Glasses from Amazon.co.uk
What could possibly be a better way to enjoy your Halloween themed drinks and alcohol beverages than in some single shot clear skull drinking glasses. These cool looking glasses come in sets of 4 or 8.
Sets of glasses make them pretty perfect for parties and fun occasions. The glass shape looks so novel, especially when filled with a strongly colored drink. It adds just a hint of fun and also some creepiness into your occasion.
As well as using glasses for the really obvious drinks, you could also use them for some homemade jello shots, yum! You can find recipes for these on pinterest. Add in some creepy candy such as candy worms for a really complete gross out factor.
Another good idea for a table top centerpiece is this really creepy looking pair of zombie hands that act as a Halloween wine bottle holder. This resin sculpture will hold a standard wine bottle and is fun to place out for your guests to enjoy. Will they dare to take the wine from it though!
Dress Your Kitchen Table with a Halloween Table Topper
Get this Spiderweb Black Lace Table Topper at Amazon.com
UK Readers get a Halloween Table Cloth from Amazon.co.uk
Set the mood of a kitchen table with a great looking black lace spider web table runner and placemat set. This could work alongside many different themes.
You can make the whole effect much creepier by using a black or dark gray tablecloth underneath this set to darken the mood.
Alternatively you can lighten the tone and make the setting more fun and family friendly with a bright green, purple or orange tablecloth underneath. How about using a dark red color tablecloth for a truly Gothic look.
You Need Something to Work as a Unique Centerpiece for Your Halloween Kitchen Table
See this Cauldron Tealight Decoration at Amazon.com
I love this cute little Halloween cauldron shaped tealight decoration that you could use with a battery powered light. There's another particularly creepy and rather sinister looking skull decoration for Halloween which can be used outdoors as a prop as well as inside the home, perhaps even as a themed kitchen table centerpiece.
A rather realistic looking grinning skull is holding up a lantern with one skeletal and bony arm. The great news is that this is a prop that works and lights up to make a great night or evening time small statue that you can use of a dark evening. It takes two AA batteries.
This looks perfect as a very memorable table centerpiece for a party occasion or to actually plant outdoors in your garden or outdoor space for a smaller statue figurine at approx 11 x 13 inches. Pop some fresh soil or even some faux grass around it to make it appear as though this creepy undead creature is really a natural feature just to freak your guests out even more.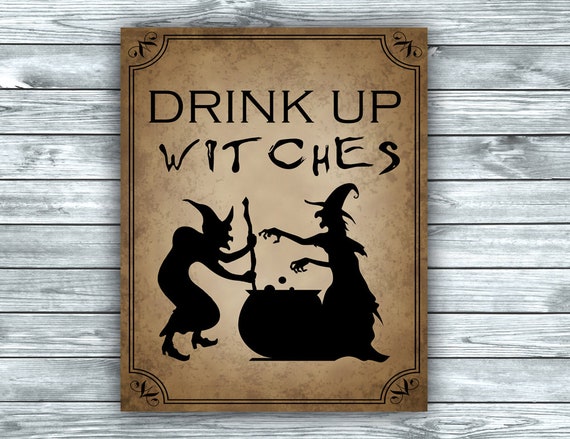 Buy this Printable Sign from ArtGraphicMagic on Etsy
What could be more perfect for a Halloween kitchen than this wonderful drink Up Witches design. This is a printable design that you can print off at home yourself or take to your local print shop. It should look great put up on the kitchen door.
Related Content You Should Also Love:
Page Last Updated:
Articles are accurate and true to the best of the author's knowledge. Content is for informational or entertainment purposes only and does not substitute for personal counsel or professional advice in business, financial, legal, or technical matters.