In this detailed Luna Lovegood Halloween costume guide, you'll find out how to perfect that exact same kooky and unique look as her in only 5 simple steps.
Get plenty of ideas and inspiration for Luna costumes, wigs, shoes, accessories and makeup with this step-by-step article on emulating her rather crazy and fun loving dress sense. How could you not dig the radish earrings and cork necklace that she wears.
Luna Lovegood is a truly wacky character from the Harry Potter series. Her really different and unusual fashion style sense makes her a brilliant choice of fantasy character for dressing up for cosplay and also Halloween.
Note: This post may contain affiliate links for which I can be compensated.
Step 1: A Truly Luna Lovegood Halloween Costume
Image Credit: Shared by Michael Miller on Flickr with a CC License
Luna Harry Potter Costume: Her Hogwarts School Uniform and Ravenclaw Robes
⭐ For a great Luna Harry Potter costume which focuses on her school uniform, look to wear a gray jumper, knee-length skirt, school tie and her school Ravenclaw robes. You can get the robes in both child and adult sizes and can also choose to add in the other accessories as you wish to dress up as her.
You might also want to add on the tie, her funny Spectre Specs and wand as extras. For a cheaper option, sew a Ravenclaw badge crest on to a plain black robe for a cheaper dressing up or cosplay option.
Get a Harry Potter Ravenclaw Robe from Amazon.com
UK Readers get a Ravenclaw Robe on Amazon.co.uk
Luna is a student of the Ravenclaw house at Hogwarts, the School of Witchcraft and Wizardry. She becomes good friends with the main characters, Harry Potter, Hermione Granger and Ron Weasley, despite the fact that they also find her pretty strange. Students of Hogwarts who are not quite so kind refer to her as Looney.
If you want to reduce the cost of your outfit, you can purchase or sew up a plain black cloak and then add on a Ravenclaw patch badge to the front of it. This is because this character belonged in that particular house at Hogwarts school.
You Need the Hogwarts Ravenclaw School Uniform for Luna
In the movies, Luna mostly wears either her Ravenclaw house robes or clothes and outfits which she puts together in strange and sometimes mismatched color choices.
I'm a big fan of the movies and the Harry Potter books by J.K. Rowling and this character, which I think you will tell as you read this, is one of my absolute favorites. Luna is very cool and different as a character and why not. Who wants to look just like everyone else does!
The Hogwarts School Uniform Accessories for a Luna Lovegood Outfit
You can get hold of robes in both adult and child sizes depending what you really need for your Luna Lovegood outfit. Once you have the main robe for the school outfit, simply add on a Ravenclaw tie, a pair of Luna's wacky specs and a Harry Potter wand which you can make or buy.
The addition of the spectre specs along with a few other things like copying her hair means that everyone will know exactly who you are for Halloween or your convention. It's the wacky but kind odd girl who sees things that most other people don't!
Buy the Wand of Luna Lovegood from Amazon.com
UK Readers get a Luna Lovegood Wand from Amazon.co.uk
Grab hold of Luna's magical wand. If you're unable to get hold of her actual replica wand for your magic making, then opt for a basic Harry Potter wand or make your own DIY version. The official wand looks really great for cosplay especially.
The school jumper or sweater and her actual wand are the typical items that are often harder to source and find. If you're dressing up for cosplay, you really want to try getting hold of a replica of her wand (or making one) from the movies so that you can look even more magical and also authentic.
More Costume Ideas Including the Yellow Luna Lovegood Dress Robes
Her Out of Hogwarts School Fashion Sense!
Image Credit: Shared by Dannie Junnior on Flickr with a CC License
These are the yellow dress robes that she wore to the wedding of Fleur Delacour and William (Bill) Weasley. You can also see the radish earrings in this photo as well as the sunflower that she wears in her hair.
There are also some silver dress robes that Luna wore when Harry Potter himself took her along to Professor Slughorn's Christmas party. You can find an image of this dress at the Harry Potter Wiki site.
Unfortunately it is hard to find both the yellow and silver dress robes as ready made items to wear. I sometimes see Luna's yellow dress listed on Etsy to buy. You can always try looking at other auction and handmade sites to see if someone will make them as custom dresses for you. Alternatively, look yourself for dresses that have a layered, tiered and ruffled look that this character loved to wear so much.
I told Daddy most people would wear dress robes, but he believes you ought to wear sun colors – J K Rowling
Luna's Very Unique Type of Style Described
Her fashion style is to wear above the knee skirts or dresses with layers, tiers and ruffles. She loves lots of pretty layers and ruffles to make quite elaborate looking and unique dresses such as the yellow one above.
Only this character would most likely team her skirts and dresses up with some bright mismatching color long socks and converse sneakers or Dr Martens boots. The outfit shown off below would make a perfect look for any female who wants to dress in a similar kooky style and fashion.
Image Credit: Shared by Annie Pilon on Flickr with a CC License
Luna's out-of-school fashion sense is really very kooky and there are plenty of ideas for her rather odd style on this page. I love the way that she can mix up a smart pink coat with bright blue tights or long socks and lace-up pumps or converse. And, of course, the yellow dress robes which she wore at Fleur Delacour and William Weasley's wedding were just amazing. Not many characters can rock bright yellow in the same way.
Unfortunately some items like the yellow and silver dress robes are extremely hard, if not impossible, to get hold of. However, if you look to mismatch up smart looking skirts and dresses with flat and casual shoes and stripy socks, you can't go too wrong. She loves bright colors, multiple layers of fabric and ruffles on her pretty party dresses.
Step 2: Getting Luna's Long Blonde Hair
Image Credit: Shared by Catsy Pline on Flickr with a CC License
Here one cosplayer is reading the Quibbler magazine upside down. Just as Luna did herself, as you do.
A copy of this really cool magazine has been printed off from here.
In the book she is said to have rather straggly and dirty color blonde hair which we don't see quite so much in the movie version. It's more of a grunge look.
The girl beside the window looked up. She had straggly, waist-length, dirty blonde hair, very pale eyebrows and protuberant eyes that gave her a permanently surprised look. – Order of the Phoenix
Luna's hair was described as long, dull blonde and rather unkempt. But when she did dress up for more formal events like the wedding of Fleur Delacour and Bill Weasley, her hair looked really beautiful with ultra-long and golden waves. You can easily purchase a costume wig or some clip-in hair pieces to get the hair style required to look more like this character.
She had straggly, waist-length, dirty blonde hair, very pale eyebrows and protuberant eyes. – J K Rowling
Get a Blonde Wig for a Luna Costume from Amazon.com
UK Readers get a Long Blonde Wig from Amazon.co.uk
Lots of people have actually used this Mesmerelda wig successfully for their own Lovegood costume. It looks like a good choice since it looks like the hair is so long and curly.
Step 3: Shoes and Accessories for this Character
Luna wore some cool looking pink plaid converse in Harry Potter and the Order of the Phoenix and they were shown near the end of the movie. You used to be able to buy the plaid strawberry pink converse sneakers or shoes over on Zazzle but unfortunately these are no longer available.
Quite often this character walked around barefoot because other Hogwart's students would hide her shoes as well as other items. You can see the list of her lost items. But no wonder she wanted to get these converse ones back. You can look for plaid pink shoes on an auction site instead.
Get These Luna Spectre Specs or Glasses from Amazon.com
UK Readers get a Her Specs from Amazon.co.uk
In Harry Potter and the Half-Blood Prince (the movie version) Luna finds Harry who has been hurt by Draco Malfoy and is invisible under his magical cloak of invisibility on the school train. Luna is able to find him with her eye-popping spectre specs glasses – you can see some replica versions shown above that you can buy.
In the book version of this same section it is actually the character Tonks who finds Harry on the Hogwart's Express train instead.
Luna apparently lost a pair of striped socks while she was at Hogwarts so this goes to show she wore them. I think she would really enjoy something similar to these fab looking and colorful rainbow socks.
She would not wear them with high heels though it would be some casual flats and I can imagine some alternate red and white laces in canvas boots or sneakers.
She adores bright and cheerful colors like yellow and loves to wear kooky accessories. Bright colored tights or long socks would look great teamed up with an above the knee skirt or a dress in a clashing bright color choice.
Step 4: Lovegood's Special Costume Jewelry
Sometimes you can find this characters jewelry set over at eBay. There is a ready made set that you can get hold of if you are lucky or get inventive and make your own instead. Miss Lovegood is most noted for wearing 3 pieces of jewelry: some radish earrings which are actually dirigible plums, a butterbeer cork necklace and a black beetle ring.
The Radish Earrings
Image Credit: Shared by Kathy on Flickr with a CC License
The radish earrings that she wore were actually beaded ones and you can see them in the photo on this page where she is wearing her yellow dress robes. I like these crochet versions shown above which are really cool looking. The tutorial below shows you how to make a more authentic beaded pair.
Make your own >> The Radish Earrings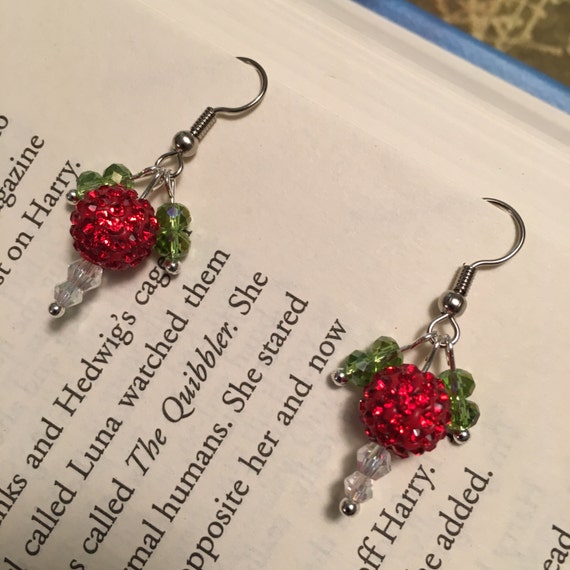 Get these Beaded Radish Earrings Like Luna's by TheChangelingTrunk on Etsy
The girl gave off an aura of distinct dottiness. Perhaps it was the fact that she had stuck her wand behind her left ear for safe-keeping, or that she had chosen to wear a necklace of Butterbeer corks, or that she was reading a magazine upside down. – Order of the Phoenix
The Quibbler Magazine Miniature Necklace
Buy a Quibbler Magazine Miniature Necklace from TiddyBits on Etsy
There's a wonderful ready-made handmade necklace called the Quibbler necklace which you can find on Etsy. It would be a great accessory to a costume or also to be given a gift.
Luna doesn't actually wear this necklace in the movies but it is great for any Harry Potter fan. The Quibbler magazine is published by the character's father, Xenophilius Lovegood.
Butterbeer Cork Necklace
She [Luna] had chosen to wear a necklace of Butterbeer corks … – J K Rowling
Butterbeer Cork Necklace to Buy from TheChangelingTrunk on Etsy
It's Not too Hard to Make Your Own Version!
First you'll need a cork stopper to make your own version of the Butterbeer Cork Necklace. You can't normally purchase single cork stoppers but perhaps you can make up a whole load of necklaces for other Harry Potter fans.
You can make your own butterbeer cork necklace by using some long cord. Attach a cork, you need to place a hook in the cork, which has Butterbeer written on it in the middle and add some turquoise blue beads on either side then knot the ends.
More detailed instructions >> Make a Butterbeer Cork Necklace
Step 5: Luna's Make Up and Cosmetics
Image credit: by Sarah Kristin, Flickr. Shared with a CC Licence.
In the Harry Potter movies, Luna wears very pretty, light and natural looking makeup. Her skin is pale and gives off an ethereal and ghostly glow.
She has a subtle sweep of peach color eye shadow and also black eyeliner just over the top of her eyelids which gives maximum attention to her large and fascinating eyes. And she has the palest rose tinted lipstick or lip gloss on her lips. Apart from that her make-up is entirely minimal.
You must admit that her wacky and oddball non-school clothes are really bright enough without adding on loads of make-up and cosmetics too. So opt for light, natural shades and a light pink lipstick to get a more realistic Looney look.
Video on How to Put Together a Luna Outfit
The two most important factors in your character make-up are peach eyeshadow and the black eyeliner which goes along the upper eyelid only. If you don't wear those two essential pieces then you won't be accentuating the eye area like she does so well.
Add white eyeliner to your bottom eyelids to make your eyes look bigger and brighter. Black eyeliner for your top eyelids to draw attention to the eyes. Enjoy dressing up as this really fun character.
Related Content You Should Also Love:
Page Last Updated:
Articles are accurate and true to the best of the author's knowledge. Content is for informational or entertainment purposes only and does not substitute for personal counsel or professional advice in business, financial, legal, or technical matters.