Not just useful for Halloween decor, skull bathroom accessories can be used to add a really prevalent Gothic theme to your room. This should bring a very dramatic, bold and strong style to the space.
Your guests should be surprised or even a little shocked by the whole skull vibe when they walk in that room. Skeleton, bone and skull motifs are considered as creepy to most people but remain a source of real fascination to others.
Accent and accessory items in this theme are often employed for rooms with a pirate scheme. However, I'm focusing on a more adult look for this particular page.
Note: This post may contain affiliate links for which I can be compensated.
Skull Bathroom Accessories: Decor for a Truly Dark and Gothic Room
Image Credit: Shared by Ziv Pugatch on Flickr with a CC License
☠️ Make more of an impression by picking out some really unique skull bathroom accessories and accent pieces for your home decor. Used carefully, these designs can provide a really rich and arty looking backdrop for decorating the restrooms within your home.
Skull Bathroom Accessories: Skeleton Toilet Roll Holder
UK Readers get a Skull Toilet Paper Holder from Amazon.co.uk
A real favorite accessory I have seen on Amazon which ticks all the boxes for me for this rather dramatic room scheme is this brilliant looking bathroom paper holder.
It's classed as a Halloween item although some reviewers state how surprised they are at the construction of it and how solid an item they believe it is.
The dusty looking bones appear to stand out really well against the rich black backdrop. It sure looks as though it would really suit being positioned over a deep wine red or a midnight black wall coloring where it can really stand out as an eye-catching piece in a room.
You can also get some unique Halloween toilet paper for this item as well.
☠️ More Halloween Toilet Paper Holders
If you look hard enough, you may be able to locate some patterned paper with a suitable motif or how about black toilet paper which is still rare enough to make any guests marvel at it. Alternatively look for a blood red shade if you really want to go down the creepy route for this occasion.
Carefully selecting just a few key items that complement and work well with each other can have far more of an impact. So be careful not to collect anything with this motif otherwise you could end up with an overall look which is haphazard and jumbled. Just pick out and buy some of your favorite key items instead.
Skull Bathroom Decor Including a Toilet Brush Holder
Buy this Bathroom Brush and Holder Set from Amazon.com
UK Readers get a Skull Toilet Brush from Amazon.co.uk
Perfectly complementing the look of the bathroom paper holder shown above is this really novel and practical brush. The handle of the brush is made to look like it has been carved from bone.
It slots neatly away into the matching head or skull holder when not in use. It's good to find items which don't just look good but are actually practical too. After all, these are things that you really do need in the home so why not have them in the matching theme as well.
☠️ If you like the idea of having a themed holder and brush but just not these particular ones, consider using small decal stickers, adhesive stickers or small prints with the motifs that you do like.
Add them in yourself over the top of a plain, solid color design. Alternatively, you could even use a small stencil and some spray paint. You'll find more suggestions below for this unique room styling.
Soft Furnishings including Sugar Skull Bathroom Accessories
Eye-catching skull curtains can create a strong focal point in your bathroom.
Image Credit: Shared by PolkaDotted1 on Flickr with a CC by-ND 2.0 Licence
Curtains or a swag valance can quickly tie in with your whole bathroom theme. Because they can cover a large area in the room, window curtains and even shower curtains can create a wonderful focal point for the whole look and feel of your decor.
Not everyone wants curtains in the bathroom but it can provide you with a really elegant way of dressing the, often small, windows and making a rather eye-catching centerpiece for your room.
This curtain set has been cleverly made from two patterned sheer fabric scarves. What a rich and dramatic look it brings. This type of see-through fabric is also good for making a swag valance which is a hanging fabric window dressing. This is what we opted for in our room and it gives the bathroom decor quite a romantic style.
Get this Sugar Skull Shower Curtain from Amazon.com
UK Readers get a Sugar Skull Shower Curtain from Amazon.co.uk
Lots of people opt to instantly transform this space by adding in a skull design shower curtain for the occasion. Like window curtains or dressings, this is a large accessory which can instantly change the look and feel of a room.
When wanting to alter areas in my own home, I often start with the biggest items first and the ones which will offer the largest overall impact when someone sees it. It also makes it easier to add smaller details in later when you've perfected the overall look. Have fun making a really haunting space for Halloween or just for your own creepy pleasure!
I love the arty style sugar skull design prints that you can get for shower curtains and other accessories. Some of them feature a rather feminine look with bones set in the midst of flowers, jewels and even butterfly scenes.
These rather stunning and intricate designs can really add some glamour into the bathroom as well as a bit of femininity. Add in a splash of color and beauty to the Gothic theme with sugar skull items.
Adding flowers to a skull mug sticks strongly with the theme but adds a contrasting touch of femininity to the decor.
Image Credit: Shared by Paul Stainthorp on Flickr with a CC by-SA 2.0 Licence
I love this idea of using a mug as a vase or container for flowers which can add a really interesting look and style to the bathroom. There's no reason why you can't add a feminine slant and a splash of color as part of your skeleton bathroom accessories.
A skull shaped mug or tankard gives the traditional and dark Gothic theme a real twist that guests will find intriguing in your home.
As well as looking totally cool, this surprise little feature also gives you the room to add in your choice of accent color with the flowers (silk or real flowers) of your choosing.
This is a particularly good idea if you're wanting a blue or a pink skull bathroom or something different. You may be really limited with the actual items that you can buy because they mainly make these in white or black variations. This is a way of introducing the color you want simply and inexpensively to your decor theme.
Look out for other motifs such as flowers if you want to soften the whole style of the room.
Image Credit: Shared by CrestedCrazy on Flickr with a CC by 2.0 Licence
Adding in some soft furnishings into the room decor such as towels, rugs, curtains, or window swags can soften up the look of the whole room and also be used as an easy way to introduce new hues into the color scheme instead of the expected dark ones.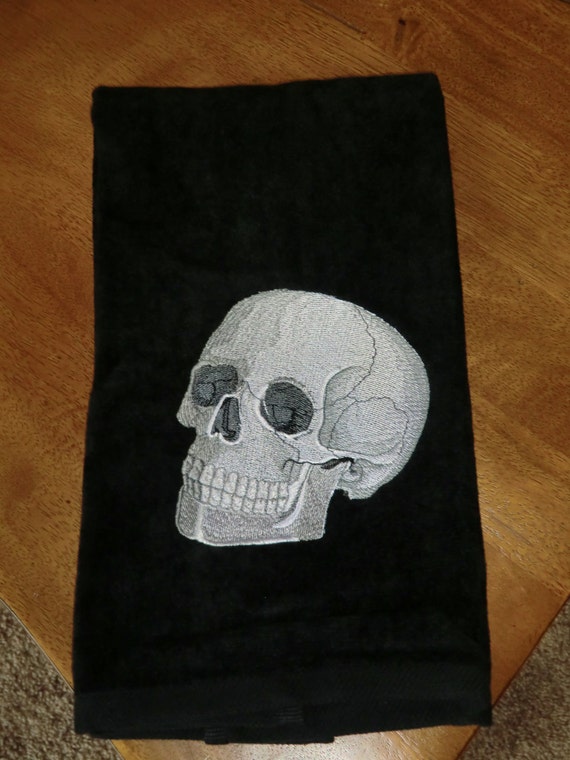 Buy this Skull Towel Design from teri3422 on Etsy
I love this embroidered velour towel design which comes in the color black and is just perfect for Halloween. Bright candy pinks and electric blues can look fantastic with black and gray or alongside a more natural antique cream bone color.
Don't be afraid to add some other more wild and punchy colors to the mix to create the exact space that you're looking for.
Skull Toilet Decal Sticker Decoration
These work in a similar fashion to wall decal stickers; they're removable, don't leave a mark once you peel off and they wipe clean so you can keep them clean too. This is a fun way to transform what is normally a pretty ugly and plain bathroom necessity into something that's actually worth looking at.
I love the addition of the eerie pale green and yellow on this design. If you were using this particular item for Halloween, I'm just imagining how great it would look if you managed to stick some glowing red lights on top of the dark eye sockets. I'm not sure how you'd do that but it would be a lot of fun to look at.
Alternatively, you could aim to bedazzle it. You'll want to make sure the seat is down before your guests are likely to pay a visit that's for sure.
Related Content You Should Also Love
Page Last Updated:
Articles are accurate and true to the best of the author's knowledge. Content is for informational or entertainment purposes only and does not substitute for personal counsel or professional advice in business, financial, legal, or technical matters.