With all the Hobbit movies out now including the last one, The Battle of the Five Armies, you can choose whether to make or buy something. Dress up just like this strong Dwarf warrior in a Thorin Oakenshield costume.
The ready made outfit options are fine but I always believe that putting something together yourself can end up with a more authentic and unique look. Both options are available on this page for you to choose from.
There is plenty of detailed advice on making and putting together your very own ensemble. Carry on reading down this page to check out my specific advice on each part of what this rather serious Hobbit dwarf wears.
Note: This post contains affiliate links for which I may be compensated.
A Hobbit Dwarf Thorin Oakenshield Costume for Halloween or Cosplay
Image Credit: Original image shared by OpenClipart-Vectors on Pixabay with a CC License
At the time when I originally wrote this content, there were no Thorin Oakenshield cosplay for sale or outfits available to buy. Instead I provided lots of detailed advice on putting together your own look for this Hobbit Dwarf king.
🎃 There are now Thorin Oakenshield Costumes for adults and also kids that are readily available.
UK Readers get a Thorin Oakenshield Costume from Amazon.co.uk
This kid's outfit consists of a shirt top, pants with attached boot tops to wear over shoes. The top gives the look of this Hobbit Dwarf character whilst being in one piece. That makes it easy for kid's dress up. It does not come with the wig and beard.
Get this Adult Costume Version Available at Amazon.com
UK Readers get a Thorin Oakenshield Costume from Amazon.co.uk
The official adult outfit for Thorin looks a bit similar to the kid's version albeit a bit more detailed. You get the shirt top, pants and attached boot tops.
It makes a quick and easy way to assume this cool dwarf's look. Note that the beard and wig are not included but that you can buy them separately.
Thorin plays a pretty big lead part in The Hobbit written by J. R. R. Tolkien. He is the head of the Dwarven company of 13. This character is very eager to reclaim his stolen treasure and also his ancestral home back from Smaug the dragon.
Thorin is particularly anxious to locate the famed gem known as the Arkenstone. Richard Armitage is the actor who plays Oakenshield in the Hobbit movies which have been divided into 3 parts.
Step 1: All About and Making Thorin's Scale Armor
Here's some information on how to make your own DIY scale armor top. Making armor for this outfit is much easier with paint, unless you happen to be proficient at metal working yourself. An alternative is to get someone to make you an armored tunic with attached metal plates.
🎃 One of the easiest options for making your own scale armor is simply to grab yourself a plain black T-shirt and paint on a diamond style design using a silver color fabric paint. You can easily and cheaply replicate the dwarf costume in this way and it's a great option for making your own design.
You can cut out a diamond shape template or a stencil to use from cardboard to make the painting process much easier. One of the most recognizable parts of the Hobbit Dwarf costume is his chest armor. He's wearing this armor on all The Hobbit movie pictures and fans are fascinated by it.
Description of Thorin Oakenshield's Armor
Thorin Oakenshield cosplay: love the armor plating and all the details like the belt buckle.
Image Credit: Shared by AfroNinja X on Flickr with a CC License
Thorin's armor, which many people mistakenly call scale armor is actually a special type of armor that is called Brigandine. Brigandine armor is made up from small metal, or leather, pieces. These pieces are called plates which are attached onto some thick clothing.
You put these armor plates where you want to protect a specific part of your body from attack in combat or battle. Thorin Oakenshield wears the Brigandine armor as a short, nearly elbow-length sleeve tunic. You can discover more about this type of armor here: About Brigandine Body Armor.
The metal pieces or plates that are attached to Thorin's scale armor are actually special, six-sided diamond shapes. These shapes feature two straight sides and two diamond points at either end which face up and down.
These metal diamond plates interlock which leaves only a tiny slither of fabric showing underneath between where each piece is placed. On the sleeve parts of the tunic, you can see smaller 4-sided diamond plates with a row of larger 6-sided diamond plates decorating the bottom of the sleeve.
I found a written tutorial on making armor using the actual Brigandine technique. Bear in mind that this tutorial shows you the techniques involved. However, it does not look anything like Thorin's costume. See the Medieval Brigandine Armor Tutorial where you can see these techniques.
Step 2: The Rest of Thorin's Upper Body Costume
⭐ The Blue Undershirt
An undershirt tunic is worn underneath the Dwarven scale armor top. From the movies, we see that the undershirt is a long sleeved dark blue / blue-gray color tunic. This shirt has a minimal collar and also lacing all down the front to the waist. It is very similar in style to renaissance costume shirts or pirate shirts.
Get this Dark Blue Costume Shirt from Amazon.com
UK Readers get a Pirate Style Shirt from Amazon.co.uk
Do you really need to buy a realistic shirt for this particular character? Possibly not, unless you absolutely want to nail this outfit to perfection.
Thorin wears such a lot of clothing over his upper body, including the scale armor and also sleeveless, fur-lined coat. With all of these clothes on top, you're not likely to see very much of the shirt except at the very middle of the arms. So any dark, long sleeve shirt should work out fine.
⭐ A Dark Renaissance Style Vest and Belt
This sits over the top of Thorin's Chest Armor. Loose the stripes on the Butterick pattern B4574 and you would then have a very similar sleeveless vest design, like the one that Thorin wears over the top of his chest armor.
Thorin's vest looks black in so many photos however in the Hobbit movies it is clearly a midnight blue color. It is not laced like so many sleeveless costume vests are. The vest is held together around the waist by his very striking Dwarf belt. The belt is made out of a thick material, possibly velvet or suede.
⭐ Gloves and Arm Bracers, Vambraces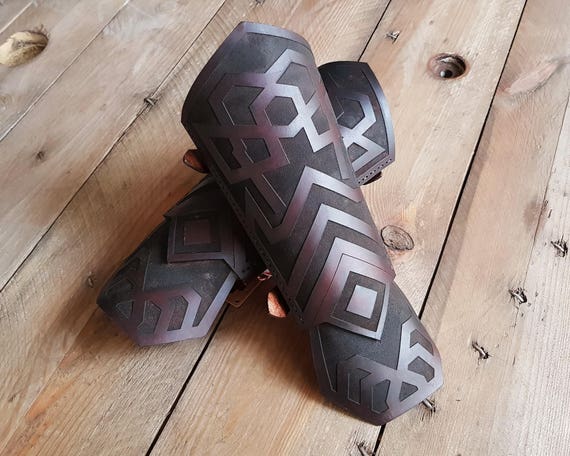 Get these Handmade Hand Tooled Thorin Leather Vambraces from OutcastProps on Etsy
Arm bracers, or vambraces as they are also known, are armor for your forearms. They offer your lower arms much needed protection from battling the likes of orcs.
Thorin wears some plain leather fingerless gloves. The gloves come up midway between his wrist and elbow. On top he wears some decorative leather arm bracers or vambraces. If you cannot afford custom made Thorin bracers, or ones with a diamond pattern design, then look for some plain black bracers.
Black bracers make a reasonable and inexpensive choice and you also then have the option to decorate the bracers with this character's unique diamond and angular design. Do this by painting on a design or by sticking cut pieces of craft foam on top.
⭐ Sleeveless Fur-Lined Coat
You can choose to leave this part of the costume off or you might want to wear something similar. Making and putting together a complete The Hobbit Thorin costume is quite a task. There are lots of components that you just can't buy or will cost a lot to get handmade or custom made.
Over the top of everything on his upper body, he wears a long sleeveless coat or jacket which appears to be made of a dark blue leather with a brown fur trim around all the edges and collar. You can look to buy a long leather style jacket from a thrift store. Remove the arms and buttons then glue a faux fur trim around all the edges. Lots of images come from his official statue here: Thorin Pics.
Step 3: The Rather Wild Wig and Beard
Thorin's hair is a dark brown. In many of the promotional photos it looks black. In others it appears to be a wavy brown with streaks of grey. After seeing the movies, I can see that it is brown hair with different tones so some of it almost looks black.
Thorin's hair also has streaks of grey running through it. He has a thin plait or braid down either side of his hair and the rest is like a wild mane swept away from his face. There are very few long, male wigs. This one might give a half-decent look if it is ruffled up a bit or you could look for something similar.
Get the Hair Kit with Wig and Beard from Amazon.com
UK Readers get a Thorin Wig from Amazon.co.uk
Step 4: The Furry Boots
Thorin's long, almost knee length boots look to be black leather although you really cannot see much of the plain leather on them. They have a unique steel-cap toe area and brown fur frontal panel which from top to bottom is criss-crossed with black leather straps. They are utterly unique.
One option that you have is to buy some faux fur fabric and cut a rectangular panel to attach over the front of a pair of plain long black boots. You might be buying some fur fabric anyway if you're making a sleeveless coat for Thorin, so just use them same stuff. Criss-cross some black leather-like strips over the top and you've got your look.
Step 5: The Weaponry and Accessories
⭐ Thorin's Sword Orcrist and a Dwarven Battle Axe
This character can be seen with a Dwarven axe and a sword. There is a plastic axe styled from the movies if you can still get hold of it from auction sites. It isn't Thorin Oakenshield's replica axe. However, because it is pretty safe to play with, it is good for kids or for adults to use in dressing up and cosplay.
There is a sword replica based on the actual movie sword and it is not a toy or a play thing but more of a collector and serious fan item. You might want to see exactly how it looks in case you want to have a go at making your own version from foam or card.
They now have a costume version of this sword as well as the collectible version of Thorin's Orcrist Sword. The plastic one is going to be more affordable for cosplay and Halloween.
⭐ Thror's Key to the Dragon's Treasure
The Wizard Gandalf gave this key to Thorin so that the Dwarf could gain an entrance into the Lonely Mountain to retrieve his stolen treasure from the dragon, Smaug. The cheapest way to buy this key is to get the keychain version of it.
You could remove the keychain and pop the key onto a necklace chain to wear. Other accessories exist including a Thorin Oakenshield ring. Have fun dressing as this cool character.
Related Content You Should Also Love:
Page Last Updated:
Articles are accurate and true to the best of the author's knowledge. Content is for informational or entertainment purposes only and does not substitute for personal counsel or professional advice in business, financial, legal, or technical matters.