You've probably seen a lot of Alice costumes for Halloween, I'm sure we all have. But have you ever seen a dark Alice in Wonderland costume for this occasion. This give a whole new look to a traditional style.
An evil, horror, dead or even a zombie Alice is quite the scary look to rock. She looks like such a sweet girl in all the movie versions so, turning this idea on its head is really fun. It makes for quite the unique Halloween costume look.
I was really intrigued when I discovered this whole grunge look while getting ideas on what to wear for this occasion myself. Come see how to bring this fairy take up to date with the stuff of nightmares instead.
Note: This post contains affiliate links for which I may be compensated.
Creepy, Twisted and Dark Alice in Wonderland Costume Ideas and Inspiration
Colored contact lenses, fake blood running down from the eyes and cracked face paint creates a strong look for a twisted Wonderland look.
Image Credit: Cropped Image Originally Shared by Miss Benu on Flickr with a CC License
A dark Alice twists the whole concept of a child's fairy tale story on its head by taking a traditionally sweet character and making her evil. A good girl gone bad is much more interesting don't you think.
In a Hurry? Get a Dark Alice Costume HERE from Amazon.com and at Amazon.co.uk
There are many ways to reflect this dark and twisted look in your dark Alice costume and some are very simple ideas such as wearing face paint to create the style or with adding some fake blood splatters to your white apron.
Get this Dark Alice in Wonderland Costume Dress Set from Amazon.com
UK Readers get a Dark Alice Costume from Amazon.co.uk
What I really like with this particular dark Alice costume design is the white apron section that comes attached to the dress. The black printed scene on the apron features a grinning Cheshire cat and also the playing cards, a clock and more.
🎃 Note, you do not get a wig or an Alice band for your hair. These are items that can be purchased separately. The wig with attached ribbon is called the Enchanted Tresses Wig by California Costumes.
The motif instantly evokes the notion that this outfit is from Alice in Wonderland, even though it's not Alice as we commonly know her.
With this purchase, you get the dress which comes with the attached apron, the little glovelettes and also a pair of thigh high stockings to match.
I like the fact that you can also get a teen and a plus size version of this same costume to wear. This makes the whole look so much more accessible to a range of women. Look out too for the Malice in Wonderland range also by California Costumes.
Getting the Dark Alice Look Right with a Dress
Image Credit: Shared by Dominic Alves on Flickr with a CC License
The main component of this is creepy Wonderland look is to get the dress right. You want the dress to look cute and that normally involves having the length of the skirt style anywhere from thigh to knees. The sleeves are usually kept short and sometimes a little puffy.
Buy this Costume Dress with Apron Set Over at Amazon.com
UK Readers get a Similar Maid Dress from Amazon.co.uk
There are different color options that you can go for with the dress and not just the normal light blue color that we associate with this character.
For a dark Alice, you could have a black dress with white apron. You could simply customize a French maid dress set like this one. Alternatively you could go for a blood red dress design to really stand out.
The White Alice in Wonderland Apron
Add Playing Card Motifs to a Plain White Apron to Give it the Alice Look
Image Credit: Original image shared by skeeze on Pixabay with a CC License
You really need a front white apron that is worn over the dress in order for other people to recognize the character that you are.
After that you can get much more creative and pick elements and characters from the story to come up with your very own fresh take on it all.
If I was going to rock this look, I'd want to make it even more unique and more like Alice herself by adding some playing card motifs to a plain white apron.
This should be very simple to do by drawing or printing out a heart, diamond, club and spade onto some card and then cutting them out to make quick templates that you can trace around.
Then I would draw round these templates onto black and red craft felt. Craft felt requires no sewing around the edges which makes it super easy to use. Then cut these out and stick them on to the front of the apron with some fabric glue to finish.
Fake blood splatters on the white apron provides a subtle clue that this is not the classic Alice but one from a twisted Wonderland instead.
Image Credit: Cropped Image Originally Shared by Jene Kirishima on Flickr with a CC License
To add some real malice and horror to your outfit, why not add some blood stains to your white apron where they will show up a treat.
You can achieve this blood stain look by spattering red fabric paint over the top with a paint brush. Practice the spattering technique over some card or newsprint until you get the right look.
Alice in Wonderland Wig for Adults and Hair Style
The typical good-girl heroine of this classic children's tale is normally portrayed as having that sweet, golden blonde hair. You could run with that classic Alice hairstyle or choose something more fitting for your darker theme.
For a darker version of this character, you may be better off plumping for black hair instead which you can add on with a wig. Alternatively, you could opt for a red wig or even a white one with some cool looking black low lights.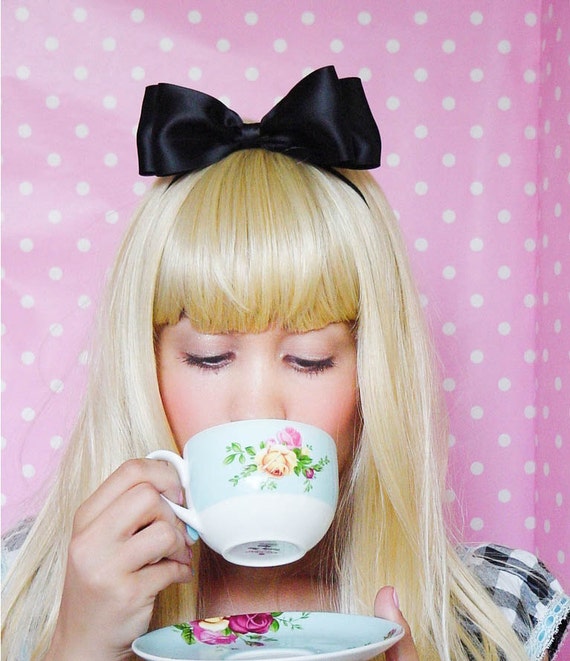 Buy this Alice in Wonderland Hair Bow from JuicyBows on Etsy
Place a wide headband in a contrasting color over the top or a wide bow and that should work a treat. I love the look of this one from JuicyBows which would work wonderfully with either red or white hair.
Tights, Long Socks, Stockings or Pantyhose for this Character
Image Credit: Shared by Todd Dailey on Flickr with a CC License
You really need some black and white striped tights or other color like red to pull this look off perfectly. You can also find matching arm warmers which should look pretty cool too.
Stripy tights or over the knee socks are an inexpensive add-on that you can easily buy separately for your costume to make you really stand out.
Drink Me! Add On a Whimsical Alice in Wonderland Pendant
Get this Drink Me Potion Bottle Necklace by FishesGiveKisses on Etsy
Even more thoughtful detailing can be achieved with a cute looking Drink Me potion bottle necklace like this really pretty one shown here.
There are lots of these little drink me glass bottle necklaces and pendants available but I really loved this one with the added blue crystal and key charm. You could even make up your own potion bottle necklace if you're crafty enough.
You could fill yours up with a color to match along with your whole costume. Wear a Drink Me charm bottle necklace and fill it up with colored sand or water with food coloring to look like blood. This could really push up the whole creepy effect.
A Living Dead Alice in Wonderland Costume
Image Credit: Shared by Vicky Kletke on Flickr with a CC License
Another take on the whole dark Alice costume idea is based on a Gothic horror style of the Living Dead Doll. The very idea of transforming yourself into a living dead Alice is really very creepy. If you've ever seen a Chucky horror movie, then you'll know exactly what I mean.
For this you would need to paint your face white and ensure that your arms are white like your face in order to give yourself the porcelain features of a traditional and creepy doll.
Instead of using body paint to give your arms that porcelain look, this would be very messy, I'd invest in a long pair of white gloves.
Long white gloves will be far easier to apply and put on, much kinder to your skin than cosmetics and can also be re-used for other outfits during subsequent years of cosplay and costuming.
Tutorial on Dark and Creepy Alice Makeup
You can find some awesome tutorials for dark and evil looks as well as for creating a Living Dead Doll face on YouTube. You can combine some of the ideas shown here with other inspiration to come up with your very own twist on this theme.
Instead of using body paint to give your arms that porcelain doll look, a pair of long white gloves should work much better. Matt gloves without any shine are going to look much more convincing for this character if you can get them.
You want a polished, perfect and rather creepy look of something that is not quite human. You really want to hide as much of your own flesh as you can using long gloves, tights or stockings instead.
For this outfit choice, you'll also want to practice looking emotionless and walking a little stiffly. Act like you have very limited movement in order to get the best doll-like effect with your whole look. This is such a unique take on the whole theme.
I've seen a lot of outfits based on the Wonderland book by Lewis Carroll but this undead or living doll is very cool. Go for a striking red dress with a black and white apron over the top.
Team this up with some red and black striped tights, a black wig and bright red hairband to create the look. You can turn almost any Halloween costume into a living doll design with the right facial makeup and cosmetics.
As there are so many creative parts in the book itself, you really cannot run out of ideas. Favorite characters are the White Rabbit, Queen of Hearts or Red Queen, Cheshire Cat, Playing Cards and The Mad Hatter. Have fun choosing.
Related Content You Should Also Love:
Page Last Updated:
Articles are accurate and true to the best of the author's knowledge. Content is for informational or entertainment purposes only and does not substitute for personal counsel or professional advice in business, financial, legal, or technical matters.