If you're a fan or you know a fan of these rather gross looking undead creatures, there are some wickedly fab zombie kitchen accessories and items to collect.
There are a whole range of ceramic zombie items including mugs, jars and bowls that all work as rather gruesome gifts for the Halloween season. These fun pieces of decor will look great in the kitchen and can help to accessorize it in a novel and unique way.
There are some even more realistic looking and statue like pieces that are bound to creep out your visiting guests and family. Come on in and enjoy this celebration of the fictional undead.
Note: This post contains affiliate links for which I may be compensated.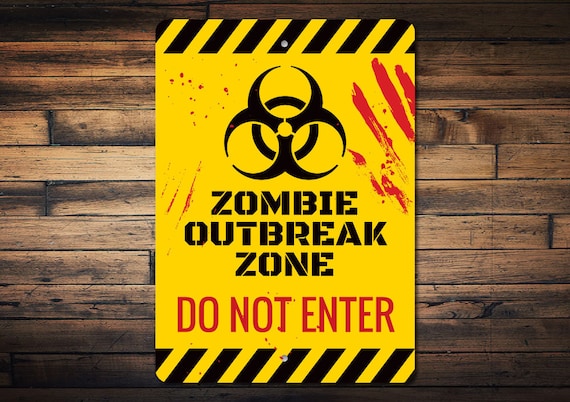 Buy this Zombie Outbreak Metal Sign from LiztonSignShop on Etsy
I love the whole look and design of this Zombie Outbreak Area metal sign. It says: Zombie Outbreak Zone: Do Not Enter. This would be ideal hung on a kitchen door. It can also be used as an outdoor decoration.
ThinkGeek Ceramic Zombie Head Cookie Jar at Amazon.com
UK Readers get a Similar Jar from Amazon.co.uk
This is one ceramic cookie jar that your eager little hands should really stay away from. Don't get up and too close to the Zombie that is keeping the sweet treats and cookies all to himself.
This makes a pretty fun novelty gag gift item as a talking point and conversation starter kitchen accessory for the home and an awesome display piece too.
Of course, you don't have to fill it up with any cookies at all. For Halloween, you could fill it up with themed candy like eyeballs or some gross out gummy worms instead.
You can use it as a handy storage jar for any dry goods that will fit inside comfortably or just have it out on show as a cool and eye-catching item or zombie kitchen accessory.
This would surely make for quite an eye-catching item used as a centerpiece for the table. You could even use it for some party games too. Fill it with something a little gross like jello with gummy worms in.
Get guests to pick out the gummy worms or some eyeball candy as part of a game. So it could also be a real party piece as well. That's if guests dare to put their hand into the head!
A good matching product that could work well for a ceramics collection on this theme is a cool looking head shaped bowl with a matching spoon made from ceramic. It must be really fun to spoon out the cereal from the top of this head.
Even better surely for eating things that resemble brains like spaghetti in a tomato sauce. A pair of these bowls could make a great couple of gifts for fans of Walking Dead or similar. If this is used to eat breakfast in the mornings, I can see how it may really put other people off from eating.
As a themed Halloween accessory for the kitchen or a novelty gift for a really rather Zombie obsessed fan, you can't get much better I'm sure than this creature of the undead resin statue who is simply guzzling back the wine. If you can plant him somewhere, where it appears as if the rest of his actual body is hidden, even better for your visiting guests.
This could work really great for a home bar, at a themed party or as a rather creepy piece of room decor. I'm thinking what a fun table centerpiece this guy would make and especially if you give him a red bottle of wine to hold and drink. Dare you be the one to take it off him when it is time to pour the drinks though?
Salt and pepper shakers are very collectible and easy to use to theme a table for an occasion. These are great for a fan and very creepy to put out for Halloween. I like the fact that shakers are regular glass ones which are nice and easy for diners to use. These guys look like he doesn't want to give them up though.
There are also other salt and pepper shakers and accessories that you can use on this theme including a head where the shakers come out, some kissing zombie characters which are quite cute and a pair of heads. Hey two brains are better than one right!
Buy this Zombie Brain Gelatin Mold
UK Readers get a Zombie Mould from Amazon.co.uk
I got one of these Zombie brain molds last year to use for our Halloween party but we enjoyed it so much that we ended up using it more than once to test out a variety of different Jello colors. In the end, we all voted that green was the most yucky looking for this design.
You can see my Jello Brain Mold Recipe Here
This product does come with two recipes that you can use. You will need at least a couple of packets of a lime flavor Jello to fill this mold.
You can leave the jello in it's normal transparent state which we preferred or add in some condensed milk to give it more of a solid look. Since it does not have a flat bottom, you need to use a bowl to balance the mold in while the gelatin sets. Experimentation is key before the big day. Add in some gummy worms to make this creepy dessert.
Having a jello brain makes a fab centerpiece to put on the table and it's fun for the whole family. Kitchen themed gifts and accessories with an undead Zombie theme. Walking Dead fans should appreciate the novelty and fun items to adorn this room with ceramic jars and more.
Related Content You Should Also Love:
Page Last Updated:
Articles are accurate and true to the best of the author's knowledge. Content is for informational or entertainment purposes only and does not substitute for personal counsel or professional advice in business, financial, legal, or technical matters.