What a wonderful winter themed outfit a snow princess Halloween costume makes and not just for this Fall time but also for parties and winter occasions like Christmas too.
Girls look so gorgeous dress in this winter wonderland snow queen theme in shimmering white and icy blue dresses and accessories. This is the perfect look for little girls who want to sparkle and shine for Halloween and other dressing up occasions.
I believe this is one of the prettiest themes that you can choose for your kids to wear. Come and see some of the most magical costumes for your little girl.
Note: This post contains affiliate links for which I may be compensated.
1: Girls Snow Princess Halloween Costumes
Image Credit: Original image shared by jill111 on Pixabay with a CC License
Your little princess can really shine. How adorable little girls can look when dressed up in white and silver themed outfits. These are perfect color choices for that snow princess or ice queen theme.
⭐ In a Hurry? Get a Snow Princess Costume HERE from Amazon.com and at Amazon.co.uk
Your little angel can shimmer and shine in a sparkling white ensemble that could make her the belle of any party or dressing up occasion.Girls always look adorable and rather angelic dressed up in white. This winter princess styling reigns supreme over the long, cold months.
Get this Child's Snow Queen Costume from Rubies on Amazon.com
UK Readers get a Snow Queen Costume for Girls from Amazon.co.uk
A basic look for this winter theme normally consists of a pretty white or silver dress, a tiara or crown, some white long gloves and some sparkling silver accessories to match. I love the look of the Rubies design shown above which comes in small, medium and large child sizes.
The glovelettes with elastic loops to hook around a finger are also included with this outfit. You could just add in some sparkling little sandals and perhaps a tiara and you're done.
UK Readers get a Snow Queen Costume for Girls from Amazon.co.uk
I love the look of this snow queen dress set. The winter style dress is accessorized with silken white rose flowers and faux fur trim as well as sparkles and shimmer.
Also included in this costume set is a wand, gloves and faux fur boot covers to give that real winter look and feel. It's a good idea to read through all the reviews before ordering since some customers have stated that the sizing runs small on this.
Get this Princess Dress and Cape Set from Amazon.com
UK Readers get a Snow Queen Costume for Girls from Amazon.co.uk
This princess dress for girls is listed as a Cinderella costume. It actually looks much more like a snow or winter princess outfit to me.
It has a sparkling sequin voile overlay on the skirt section of the dress and a matching hooded cape with white faux fur trim. It looks like a great design for girls to wear.
Elsa from Frozen is the Ultimate Winter Princess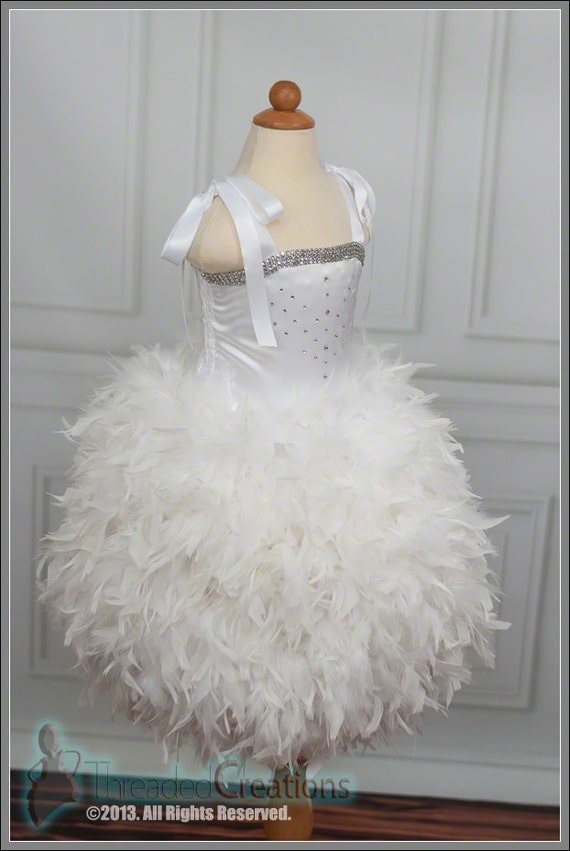 Buy this Frozen Ice Princess Costume Tutu Set from LorenFrancoDesigns on Etsy
I love this adorable looking white dress which comes with a white feather skirt and some wonderful and magical crystal detailing. I should think that any little girl would feel like a real princess wearing something that looks as special as this set. The sparkling details really add to the whole winter theme.
2: Ice Princess Halloween Costume Hair and Wigs
Get this Child Size Princess Wig from Amazon.com
UK Readers get a Princess Wig from Amazon.co.uk
Most kids always want the chance to try out wearing some hair that is totally different to their own. How about getting this beautiful looking, curly, blonde child's princess wig. It is styled with a braid or plait on top. This one is for Cinderella but I think it would work just as well for this ice or snow princess theme.
You can use any princess style child's wig for dressing up in a wintry fashion. Curly wigs save time with trying to get curls to stay in straight hair too.
If you don't want to buy a wig to use, how about adding in some white, blonde or silver color hair extensions. You can get kids hair pieces that clip in that are fixed already to a headband. Alternatively, style their own hair and pop a little silver tiara on top.
3: Sparkling Shoes and Princess Ready Footwear
Pretty Ballet Shoes in White, Silver or Ice Blue can Work Wonderfully with an Ice Princess Costume
Image Credit: Original image shared by lynnea on Pixabay with a CC License
Any pretty white or silver color sandals would look adorable on a little girl dressing up as a winter snow queen.
⭐ You can easily customize ballet or plain color canvas shoes by sewing or gluing on some pretty silver color beads or snowflake embellishments to the front. This way, you can have unique and beautiful shoes on this theme at a low cost.
I adore the idea of wearing some beautiful silver, slip on ballet shoes. Ballet shoes are lovely and comfortable for kids to wear and great for children to dance and skip around in at a party or occasion.
4: Ice Princess Costume, Child Accessories
Image Credit: Original image shared by AdinaVoicu on Pixabay with a CC License
If you're putting together your own little outfit, you'll need an idea of perfect accessories that match up with this wintry theme. Start with a white or silver dress or even a solid white top and pants, then add a white, silver or icy blue cape or cloak on top.
A winter wonderland princess would need a pretty cape, stole or shrug to keep out the cold chill air. Even a pretty and fluffy white cardigan would look super sweet over a party dress.
Next comes a crown or tiara. Every little princess needs one of these. Luckily, it's easy to purchase silver color play tiaras to adorn your little girl's head. If you're feeling crafty, why not take a plain white headband and sew on some pretty and sparkly fabric flowers, buttons or beads.
Buy this 3 Piece Princess Gloves, Tiara and Wand Set from Amazon.com
If she is to be really magical, then she'll need a wand. You may have one already or you can spray silver paint over a stick or a carefully rolled piece of newspaper and glue on a silver star to the end. Paint on some PVA adhesive glue and sprinkle with glitter to make your own wonderful DIY version.
⭐ Make a Fabric Pom Pom Wand in Ice Blue Colors
Don't forget about the princess gloves. Some satin-like white or pale blue gloves are necessary for to keep those cold hands warm. Alternatively, how about a white faux fur hand muff which is ideal for winter weather. How adorable would this look. A royal member definitely wouldn't be getting her hands cold or dirty.
5: Frosty Ice Make Up for Girls
You might be wary of putting adult make-up on the delicate and sensitive skin of a young child, and with good reason. You can easily buy special makeup and face paint for children which is designed to be non-irritating to skin and easy to remove.
Just a touch of ice blue and white make-up could create a stunning overall look you want. How about painting a few snowflake designs on your little girl's cheeks. What about a pretty winter blue butterfly.
Auction sites can also be great places to check out these styles for kids. They are likely to have some good deals outside of the Halloween season and perhaps just after when sellers are looking to get rid of surplus stock and clothing for dressing up and parties.
Related Content You Should Also Love:
Page Last Updated:
Articles are accurate and true to the best of the author's knowledge. Content is for informational or entertainment purposes only and does not substitute for personal counsel or professional advice in business, financial, legal, or technical matters.